Call on Joe Biden and Congress to take urgent action on climate change
To: President-elect Joe Biden and Congressional Leaders
The election is over, but our work is just beginning.

We're calling on you to have the chutzpah to put people back to work building a 100% clean energy economy, create millions of high-wage jobs, prioritize environmental justice, and hold polluters accountable.

We have no time to waste – let's get to work

Signed,

Jewish Americans concerned about the climate crisis
7 Climate Actions the Biden Administration and Congressional Leaders Can Take in the First 100 Days
We're in the middle of a pandemic, fighting to save lives, save the planet, and save our democracy. Tinkering around the edges in this moment isn't going to cut it – going "back to normal" won't be enough. We need President-elect Joe Biden and Congressional leaders to have the chutzpah to take bold action to confront these crises and to address climate change.

We've compiled a list of 7 immediate actions the Biden Administration and Congressional leaders can take in the first 100 days to put us on the right track.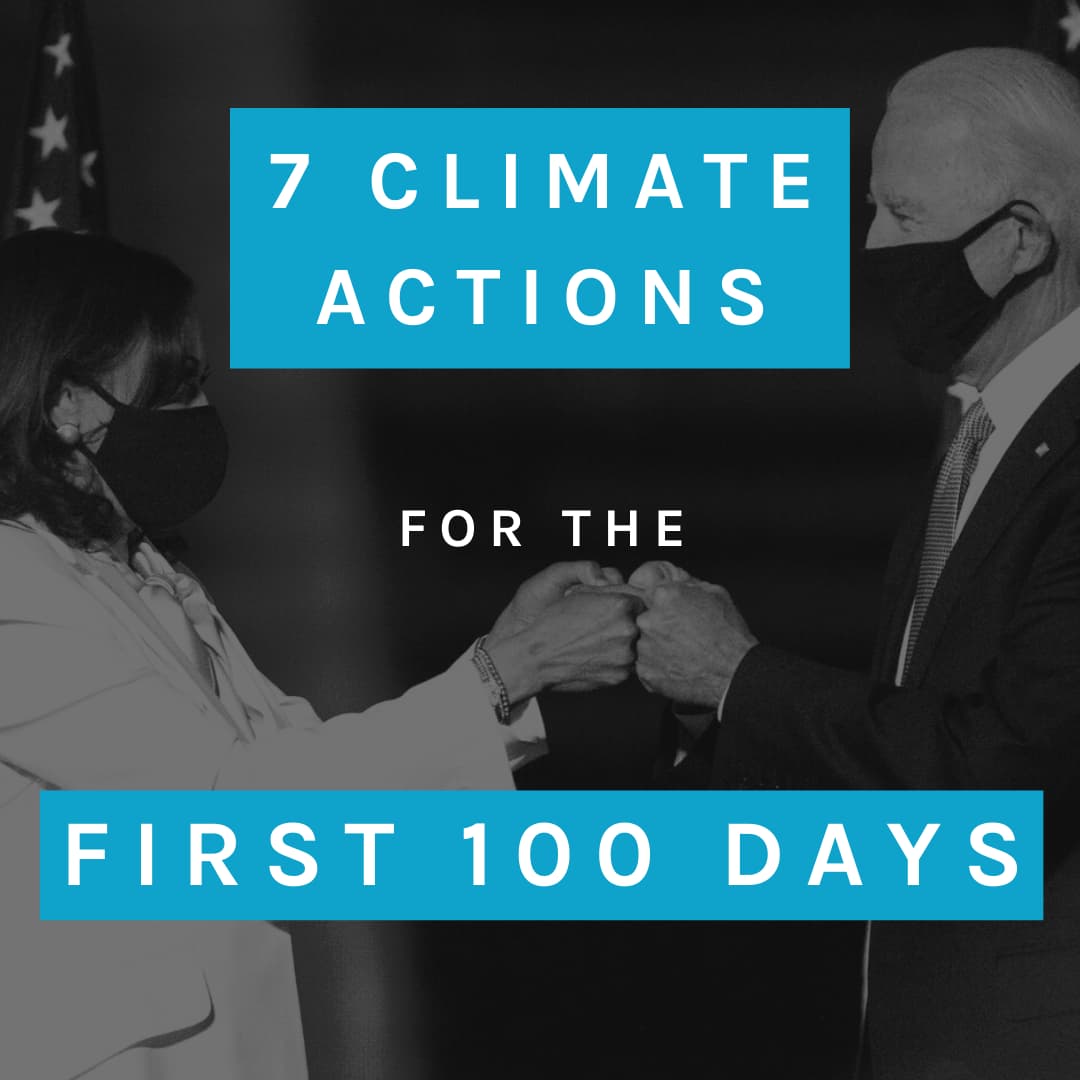 1: Choose a climate cabinet
Appoint a cabinet that will take immediate, aggressive action to cut greenhouse gas emissions, invest in clean energy jobs, and prioritize environmental justice.
2: Prioritize environmental justice
Order government agencies to use science-based standards, consider civil rights and cumulative impacts of pollution on low-income and historically marginalized communities.
3: Move the country towards 100% clean energy
Use existing Clean Air Act authority to set aggressive emissions standards for vehicles, power plants, buildings, public infrastructure, and industrial projects.
4: Build back better
Work with Congress to pass a ten-year, $10 trillion economic revitalization plan that creates millions of good-paying jobs by building green infrastructure.
5: Invest in our future
Direct the U.S. Treasury to regulate climate risk and shift trillions of dollars in public and private investments from fossil fuels to clean energy.
6: Keep fossil fuels in the ground
Immediately stop new mining and drilling on public lands.
7: Re-engage internationally
Rejoin the Paris Climate Agreement.
Meeting With Your Members of Congress
To win the level of climate action that science and justice demand, we're going to need to continue to make our voices resound – not just at the ballot box, but in the streets and in the halls of power.
That's why, as we launch the next phase of the Chutzpah campaign, we're supporting folks in the Dayenu community to meet with your federal elected officials (online, of course), to build relationships and let them know that their Jewish constituents are organized and are prioritizing bold, urgent climate action. Meetings will take place during the first 100 Days of the new administration.
By holding in-district group meetings with them, we'll ensure that our Senators and Representatives hear directly from us, their constituents, and understand how important urgent climate action is to the Jewish communities they represent.
Here are some resources to help you plan an in-district meeting with your Senators or Member of Congress:
Are you interested in organizing or hosting a meeting with your elected official? Let us know.
Chutzpah 2020
Chutzpah 2020 was Dayenu's dynamic get-out-the-vote program ahead of the 2020 elections. In just 8 weeks, together with thousands of volunteers and 43 partners, we reached over 800,000 climate-concerned voters in six key states.