Climate Torah
Check out these Climate Torah Resources – teachings from biblical ancestors to contemporary scholars, with suggested questions to spark discussion and reflection. We encourage you to use them with your Dayenu Circle, your Hillel or congregation, in your classroom, with friends, family, or on your own.*
May these narratives of Jewish resistance and resilience challenge us, comfort us, and inspire us to action.
* All the materials on this page are being shared using a Creative Commons Attribution-NonCommercial-NoDerivatives license.
CLIMATE TORAH RESOURCES AVAILABLE FOR DOWNLOAD:
Challenging Destruction: Moving from Noah to Abraham

Climate as the Language of Covenant

Communal Response-ability Through the Lens of Ta'anit

Three Stories of Our Time
Please fill out the form to access the resources →
Fill out this form to download the Climate Torah Resources
Holiday Resources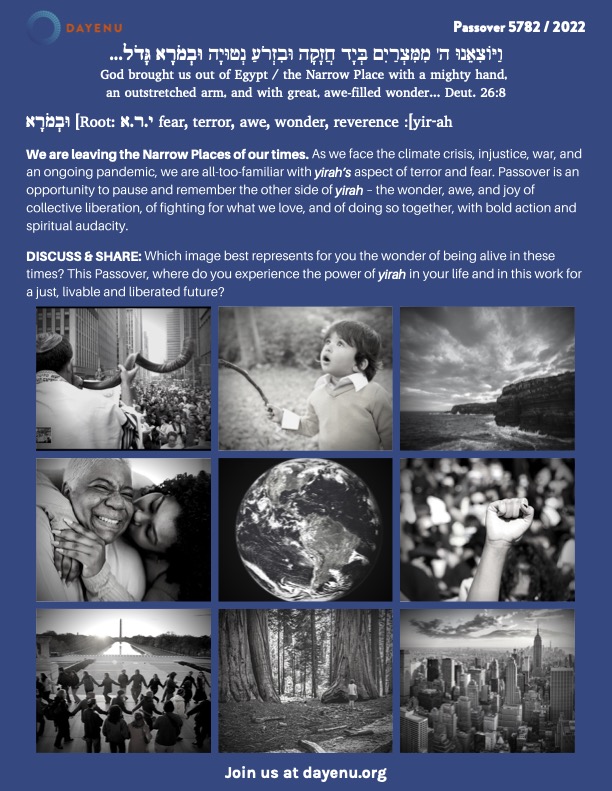 Yirah - Passover 5782 / 2022
We are leaving the Narrow Places of our times. As we face the climate crisis, injustice, war, and an ongoing pandemic, we are all-too-familiar with yirah's aspect of terror and fear.
Passover is an opportunity to pause and remember the other side of yirah – the wonder, awe, and joy of collective liberation, of fighting for what we love, and of doing so together, with bold action and spiritual audacity.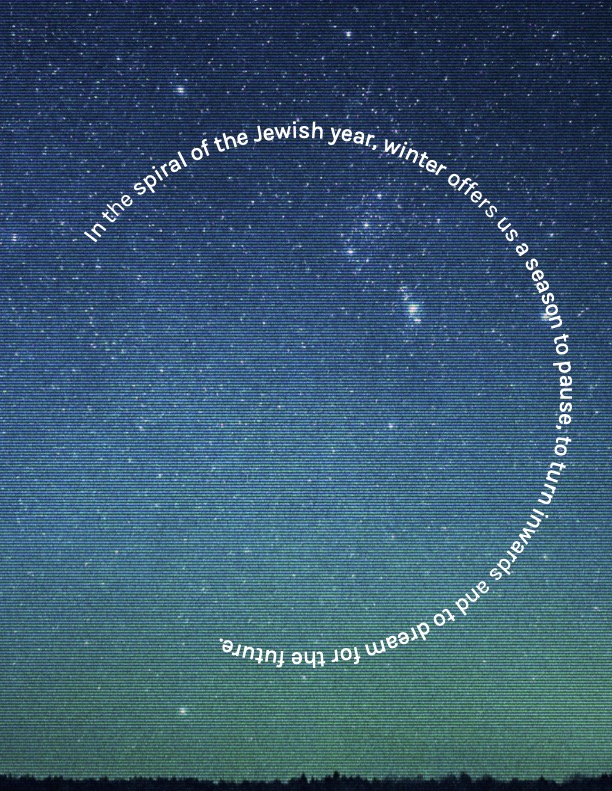 Kislev 5782
In the Hebrew month of Kislev, here in the Northern Hemisphere, the weather cools and the nights stretch towards their longest. In the cycle of the Jewish year, winter offers us a season to pause, to turn inwards and to dream for the future.
The Torah contains ten different dream sequences from seven different dreamers, and during the month of Kislev, we read nine of these ten dreams...
More holiday resources coming soon...
Dayenu Circles
Dayenu Circles—small groups of people working on climate action—are a way for you to make powerful, positive change with a Jewish voice. Together with just a few friends, fellow community members, or neighbors you can join or create a Dayenu Circle that can be your homebase for climate action.
Here are a few resources to help you join or start a Dayenu Circle:
If you're ready to launch your Circle, make sure to fill out a Dayenu Circle interest form so we can be in touch.
Organizing Resources
Passover Actions Toolkit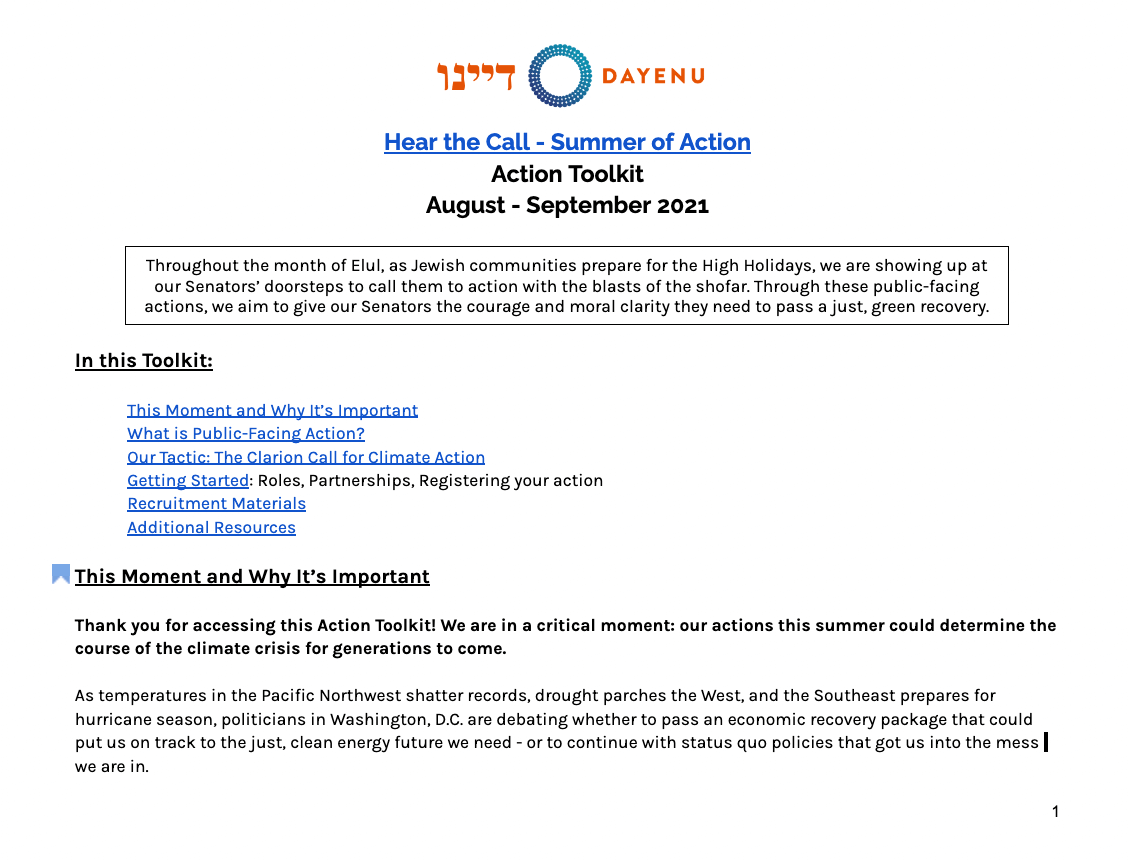 Hear the Call Toolkit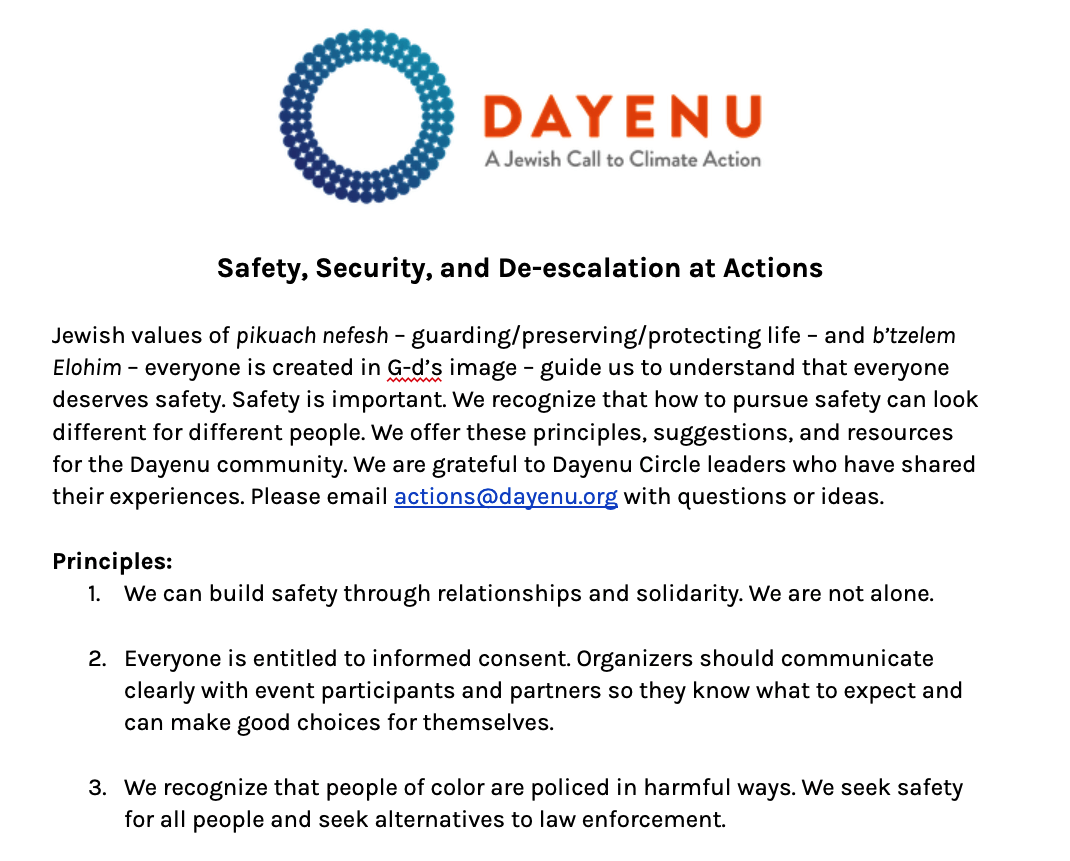 Safety, Security, and De-escalation at Actions
We offer these principles, suggestions, and resources for the Dayenu community.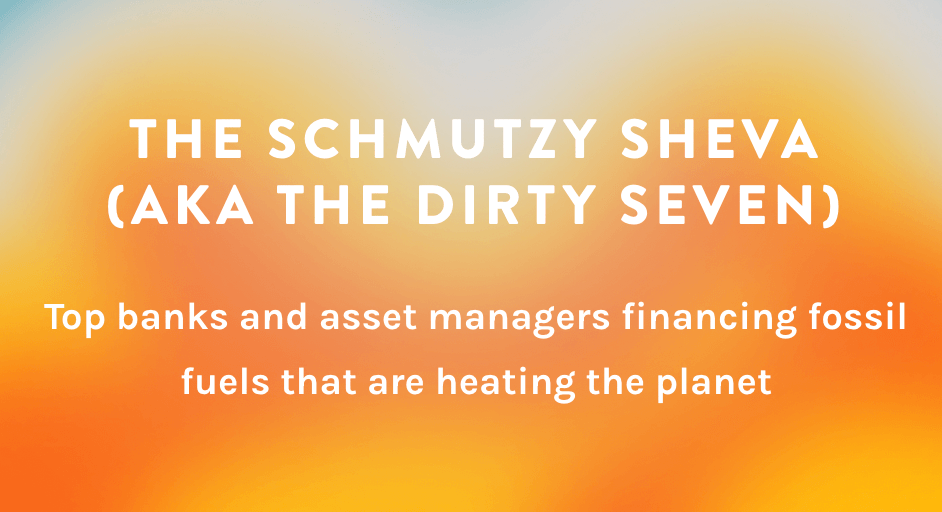 The Shmutzy Sheva
This resource details their role in the climate crisis, the climate commitments they've made, and where their offices and branches can be found.
Passover Action Planning Call
March 2, 2022
Training Call for Organizers preparing to lead Passover Actions