Call your Members of Congress
Call your Members of Congress to demand clean energy, good jobs, and justice.
Photos from Hear the Call actions
Images from 16 Hear the Call actions across the country.
Kavanah for Climate Action
Hear the Call: Jewish Communities Demand Climate Action
#HearTheCall
Images from 16 Hear the Call events across the country
Hear the Call: Public Action for a Just Green Recovery
As climate disasters intensify across the country, politicians in D.C. are haggling over a sweeping economic recovery bill. If we raise our voices, this bill could deliver jobs, justice, and game-changing action on climate. But only if we can demonstrate broad, public support.
Throughout the month of Elul (August and September), as Jewish communities prepare for the High Holidays, Jewish Americans are showing up at their Senator's doorsteps to call them to action with the blasts of the shofar. Through these public-facing actions, we aim to give our Senators the courage and moral clarity they need to pass this bill.
Whether this is your first time participating in a public-facing action for climate, or you're an experienced organizer, we need your leadership in this moment. Check out our Action Planning Toolkit or email circles@dayenu.org for support. We're here to help.
This may be our last, best shot to ensure a livable future. For our children, and our children's children, we won't let this moment pass us by.
Learn more about what a just, green recovery for America means →
Kavanah for climate Action in 5782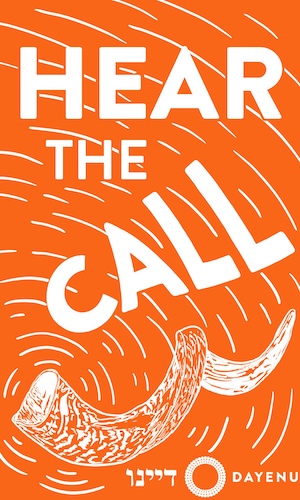 May the sounds of the shofar stir our souls to action, awaken us to the urgency of the moment, and call us to give our political leaders the moral clarity and courage to go big on climate.
Inspired by the ambitious clarion call of the Tekiah Gedolah (or "great tekiah," the final and longest of the shofar blasts), we commit to giving this crisis everything we've got and not letting go or giving in as we fight to protect our communities, our air and water, and our planet for all people, and for generations to come.
Ready to take action? Visit Dayenu.org/Call to call your Senators and tell them to go BIG on climate in the recovery budget bill.
Sukkot and Climate Action
Sukkot is a joyful, week-long festival when we are directed to build and then dwell in a sukkah. The sukkah – a temporary booth made of natural materials – draws us closer to the earth, and reminds us of the Jewish people's relationship to the land at harvest time. As we gather in these fragile, temporary structures, we reflect on our own vulnerability and reliance on the earth. If you're gathering in the Sukkah with friends this year, you may find yourself wanting to reflect on the climate crisis and what to do about it. This resource is designed to support Sukkot gatherings to talk about and take effective action on climate change.

Chag Sukkot Sameach!