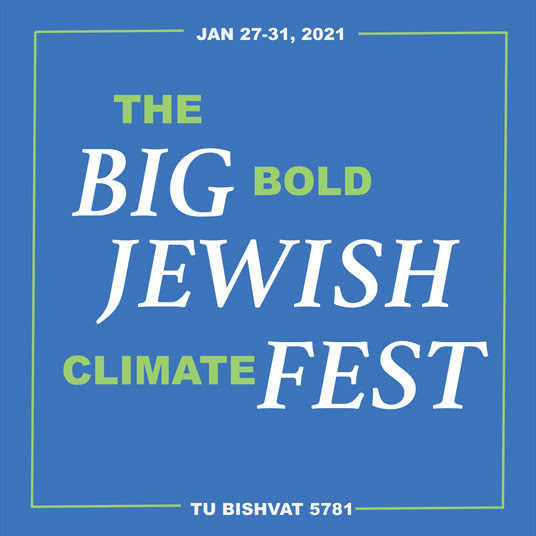 THANK YOU FOR JOINING US AT THE BIG BOLD JEWISH CLIMATE FEST!

January 27-31

Missed a session? Watch recordings from Festival events that highlight the kind of bold vision and action we'll need to confront the climate crisis.
Past Events
Day 1: Wednesday, 1/27
A Spiritual Foundation for Collective Action
Wednesday, January 27, 9 - 10 am ET
Judaism offers a unique and powerful spiritual perspective on collective action in the face of existential crisis. We will look at Moses, Isaiah and Daniel as individual figures in Jewish text who faced existential, societal crisis and what their responses can teach us about the spiritual aspects of working together to promote climate justice.
With Josh Bender, a second year-rabbinical student at the Jewish Theological Seminary and Organizing Fellow with Dayenu, a Jewish call for climate action.
Why Climate Change Must Be a Central Moral Issue of The Jewish Community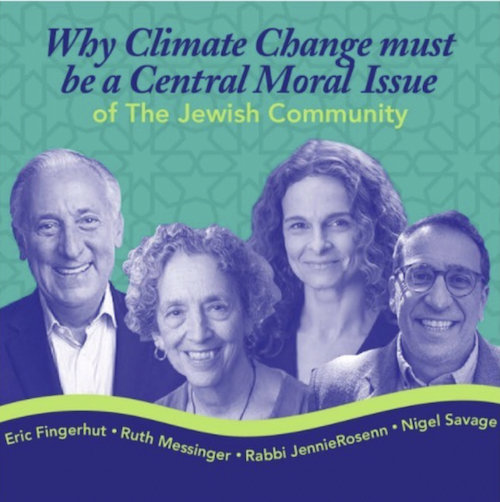 Wednesday, January 27, 12 - 1 pm ET (9 - 10 am PT)
We believe the time has come to make addressing the climate crisis a central moral issue of the Jewish community. We have a moral imperative to demonstrate our care for the natural world and for all who will be impacted by the effects of climate change. As a Jewish community, we have always dedicated ourselves fervently to the future. Often, this interest has led us to invest in building a vibrant Jewish future. Now, we must pause to recognize that the rich and beautiful Jewish future we dream of is predicated on a human future, and a future for our planet. We who are so committed to ensuring Jewish continuity must also be committed to the cause of human continuity. With Eric Fingerhut, Ruth Messinger, Rabbi Jennie Rosenn and Nigel Savage, 4 of our community's most influential leaders.
MOVING LEGISLATURES GREEN: CULTIVATING RELATIONSHIPS WITH STATE ELECTED OFFICIALS
Wednesday, January 27, 1 - 2 pm ET (10 - 11 am PT)
We know that work in the climate is more important than ever and real opportunities are finally here! Do you want to get involved in the ground breaking, even historic, action needed right now?
This session's panel will describe how with grit, daring and fun a grassroots organization in NYC –Jewish Climate Action Network NYC – developed effective relationships with state senators, converting them into climate champions who prioritize climate as part of their legislative agendas. You will gain important insights and valuable tips and tools from our panel, all of whom participated in these efforts in NYC, to do this work as well.
The Evolutionary Tree of Life: Finding Hope in Deep Time
Wednesday, January 27, 8 - 9:15 pm ET (5 - 6:15 pm PT)
Let's Zoom! Zoom way out, that is. As we face the sixth great mass extinction, the tree of evolutionary life is teetering. Yet life plays the long game. In this session, we will explore the Tree of Life in the Garden of Eden, the Tree of Evolutionary Life, and the Unetaneh Tokef prayer of the High Holidays to zoom way out on the climate crisis and find a perspective that is broader and deeper than our individual lives or even humanity. There is much awe and wonder to be found when we learn about and imagine deep time.
SHOSHANA MEIRA FRIEDMAN is a rabbi, writer, mother, activist, and song-leader in Boston. She serves as the Director of Professional Development at Hebrew College, and as a rabbinic consultant to Dayenu: A Jewish Call to Climate Action.
Blue-Collar, Green Power: State-Level Strategies to Win Climate Solutions
Wednesday, January 27, 8:30 - 9:30 pm ET (5:30-6:30 pm PT)
To effectively combat climate change, we need action in every sector and at all levels of government. Across the country, Jewish communities are joining with our neighbors to win strong climate policy at the state and local level that is often leading where federal action has lagged. In this panel, we'll hear from state legislators, activists, and advocates engaged in intersectional politics to advance climate policy. How can our communities lend our gifts and voices to join winning coalitions for systemic change?
With Vlad Gutman-Britten, Washington Director for Climate Solutions; Chloe Maxmin, Maine State Senator; Representative Debra Lekanoff, 40th legislative district of Washington state and the only Native American woman to currently serve in the Legislature, Aaron Regunberg, and Joelle Novey, Director of DC and Maryland Interfaith Power & Light and Dayenu Advisory Board Member.
DAY 2: THURSDAY, 1/28
Crisis + Opportunity: Our New Climate Context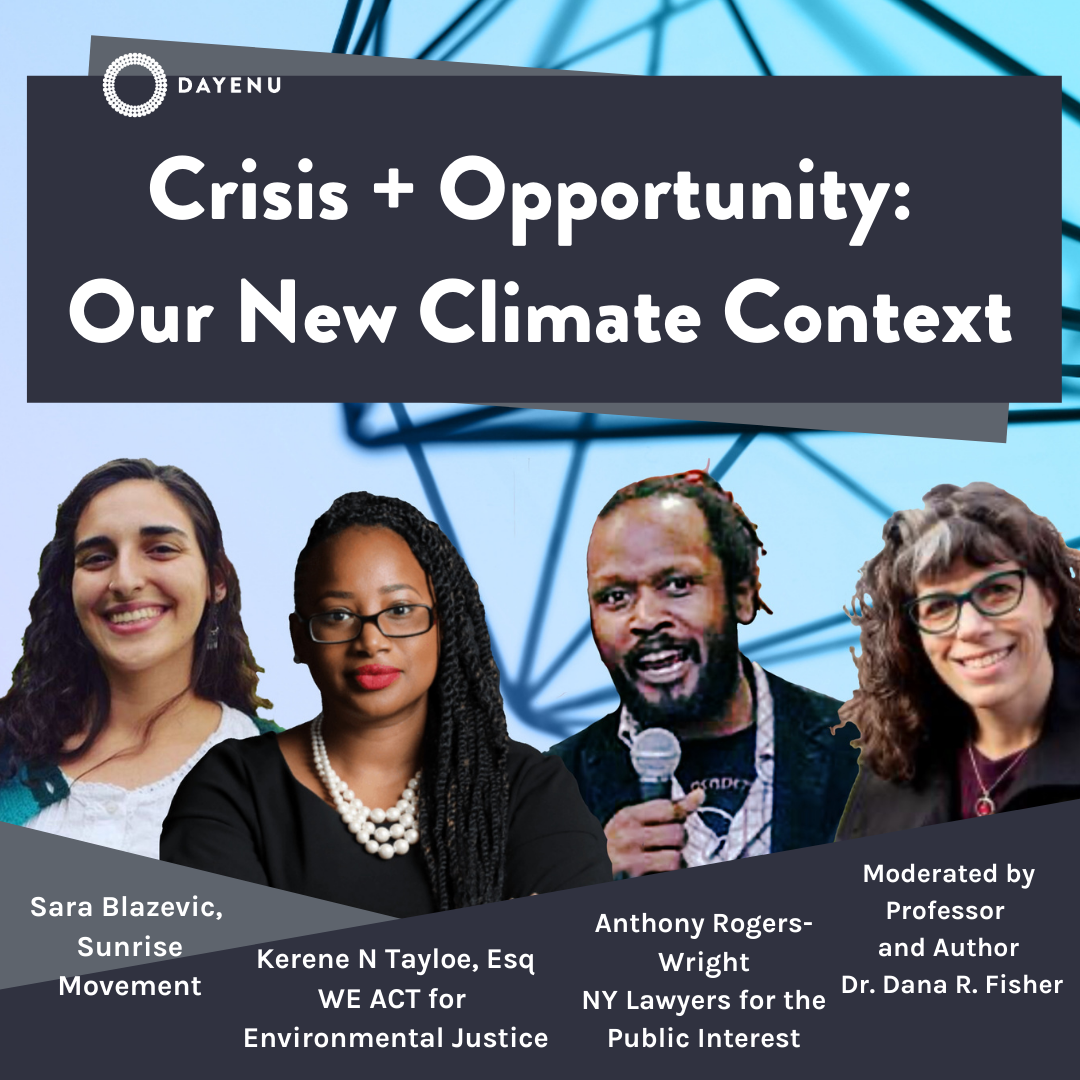 Thursday, January 28, 7 - 8 pm ET (4 - 5 pm PT)
One week into President Biden's new administration, climate and environmental justice movement leaders Kerene N. Tayloe, Esq., Director of Federal Legislative Affairs with WE ACT for Environmental Justice, Sara Blazevic, co-founder and Training Director of the Sunrise Movement, and Anthony Karefa Rogers-Wright, of NY Lawyers for the Public Interest and former Policy Coordinator for the Climate Justice Alliance reflect on how we got here: on the one hand, colliding pandemic, climate, racism, economic, and rising white supremacist crises, and on the other hand, historic voter turnout and the most aggressive U.S. climate policy platform in history, fueled by movements led by young people and people of color. And we look ahead to where we go from here to transition urgently from a fossil fuel economy to a just, green, economy, and the roles Jewish communities can play and are playing in solidarity with others for a just, livable future for all. Moderated by professor, author and Dayenu Advisory Board Member Dr. Dana R. Fisher.
Day 3 & Day 4: Friday 1/29 - Saturday 1/30
What Calls Us: Exploring the Spiritual Roots of Climate Action
Friday, January 29, 9 - 10 am ET
What ideas in Jewish tradition motivate us to take action on climate change? There are many, and each will resonate differently with each person. The goal of this class is to explore the Jewish ideas and texts that can both inspire and spiritually sustain our activism. We will discuss the different possible motivators in the Jewish tradition that call a person to take climate action and study texts that can help serve as a foundation for one's climate activism.
Joshua Klein is a rabbinical student at the Jewish Theological Seminary, an intern at Dayenu: A Jewish Call to Climate Action, and a founding steering committee member of the Jewish Climate Coalition.
Us and Us: Centering the Margins of Racial Identity in the Jewish Climate Movement
Friday, January 29, 1 - 2:30 pm ET (10 - 11:30 am PT)
As Jews, when we discuss "environmental racism," conversations and learning often fall into the paradigm of framing the conversation as "Us" (Jews) and "Them" (People of Color). When this framing occurs, even if subconsciously, what assumptions are being made about who Jews are and where do Jews of Color fit in?
Join Kristy Drutman (Brown Girl Green), Nate Looney (Avodah), and Yoshi Silverstein (Mitsui Collective) for a conversation and Q&A on their experiences as Jews of Color working at the intersections of nature connection, environmental activism, farming, service, and Jewish education; and on how the Jewish climate movement must evolve in its relationships and practices both external and internal to Jewish community in order to actualize a green and equitable future.
Songs to Sustain Us in the Struggle: A Motzei Shabbat Communal Sing
Saturday, January 30 8 - 9:30 pm ET (5-6:30 pm PT)
Join us for an evening of singing to sustain us in our climate work. Meet new musicians, learn new songs, and feel more connected. We know from the justice struggles on whose shoulders we stand that communal song is a vital element of a powerful movement.
Join Rabbi Shoshana Meira Friedman of Hebrew College, Rabbi Micah Shapiro of Penn Hillel, Ariel Korman of Ammud: Jews of Color Torah Academy. We will sing our way into a new week together.
Day 5: Sunday 1/31
Tochecha: Speaking Truth to Power & Organizing for Climate Justice
Sunday, January 31, 1 - 2 pm ET (10 - 11 am PT)
Community organizing is a craft. In Torah, and in the contemporary struggle for climate justice, strategic confrontations with decision makers catalyze whirlwind moments where what seemed impossible yesterday may soon come to pass. How do we create these whirlwind moments to win big and lasting changes? By looking at case studies from the Sunrise Movement and Torah, we will draw out organizing principles behind dramatic moments of confrontation that changed the balance of power.
With Jesse Yurrow (Urban Adamah and Sunrise Bay Area), Muriel MacDonald (Dayenu and Sunrise Bay Area), and Mo Zuckerman (Sierra Club and Sunrise Bay Area)
Future of the Climate: A Conversation with Youth Who Founded a Movement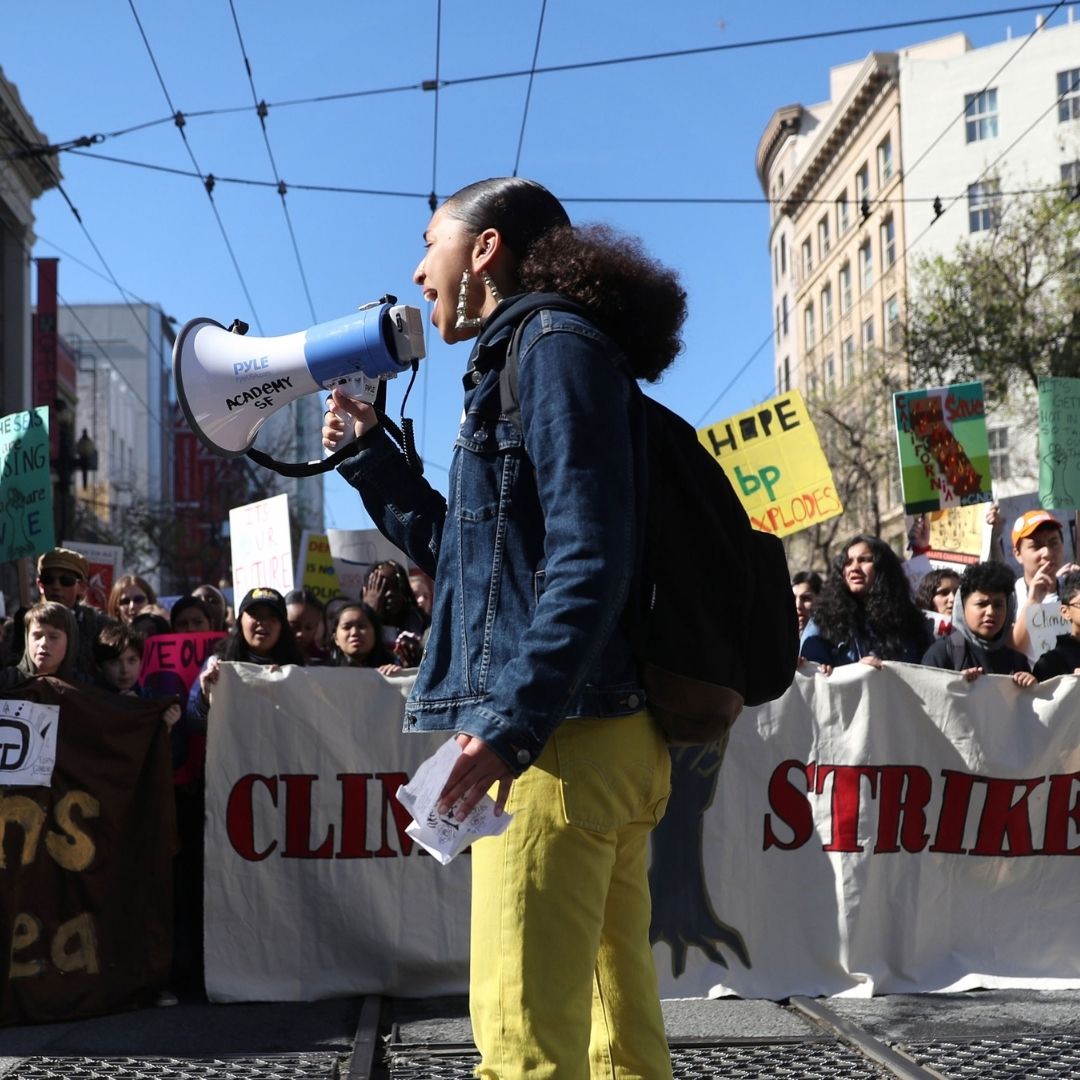 Sunday, January 31, 7 - 8:30 pm ET (4 - 5:30 PT)
Join the young Jewish rock stars of the climate movement, including Dayenu Advisory Board Member Isha Clarke, to learn about the passion, power and practical impact they have had, and continue to have, on this movement. This event will be an energetic, thoughtful conversation between movement leaders.
With
Jamie Margolin
(Zero Hour),
Isha Clarke
(Youth Vs. Apocalypse),
Katie Eder
(Future Coalition) and
Amalia Hochman
(Sunrise Movement), guided by personal stories of past activism and organizing that spur discussion around what's in store, for the youth movement at large and our Jewish response, in the year to come.
What can cities do about climate? A lot!
Sunday, January 31, 5:30 - 6:30 pm ET (2:30-3:30 pm PT)
Cities use ⅔'s of the world's energy and generate more than 70% of the world's carbon, which means cities are central to our climate problem and its solution. What's more, folks in cities tend to have greater consensus on climate than voters at the state or national level. Cities can model liveable solutions to climate change, creating momentum for Federal action.
Join some of the most visionary and effective city leaders who have been making change locally to learn how cities can lead on climate.
With Brad Lander (New York City Council) Councilmember Tammy J. Morales (Seattle City Council) and Aura Vasquez (Commissioner for the Los Angeles Department of Water and Power)
Secrets of Successful Climate Organizing & Advocacy
Sunday, January 31, 6:30 - 7:30 pm ET (3:30-4:30 pm PT)
Organizing is partly science and partly art. Join us to get tips from experienced activists about how you can grow the Jewish grassroots. Come prepared to try out some great ideas during our session and share your best techniques too.
This will be a moderated discussion and workshop with lots of stories and examples from on the ground organizing, and opportunities to practice techniques for organizing and advocacy like building relationships through storytelling, one on one conversations and facilitating advocacy through letter-writing.
With Mirele B. Goldsmith, Jewish Earth Alliance and Dayenu Advisory Board; Madi Hirschland, Creation Care Partners; Benjamin Kreiswirth, Jewish Climate Action Network-NYC and Eric Weltman, Food & Water Watch.
About the Big Bold Jewish Climate Fest
The Big Bold Jewish Climate Fest is a free, virtual and collaborative festival by and for people who want to activate Jewish values to move the needle on climate change. We believe the time has come to make climate action a central moral issue of our community, and our current moment is a unique opportunity for collaboration and engagement that might otherwise not have been possible.